A l'ombre du marronnier
chambre d'hôtes & Gîte
A L'OMBRE DU MARRONNIER
Chambre d'hôtes & Gîte
A l'ombre du Marronnier is a beautiful authentic Charentaise country house built in 1868 for a Gentleman Farmer.
While many of the original period features have been retained, we have created a comfortable, peaceful and romantic setting for your holiday.
Our large garden is available for your enjoyment, from which to enjoy the view over the valley.
The swimming pool is the perfect place to have a refreshing dip on those sunny summer days. 
 Truly a blissful place to unwind…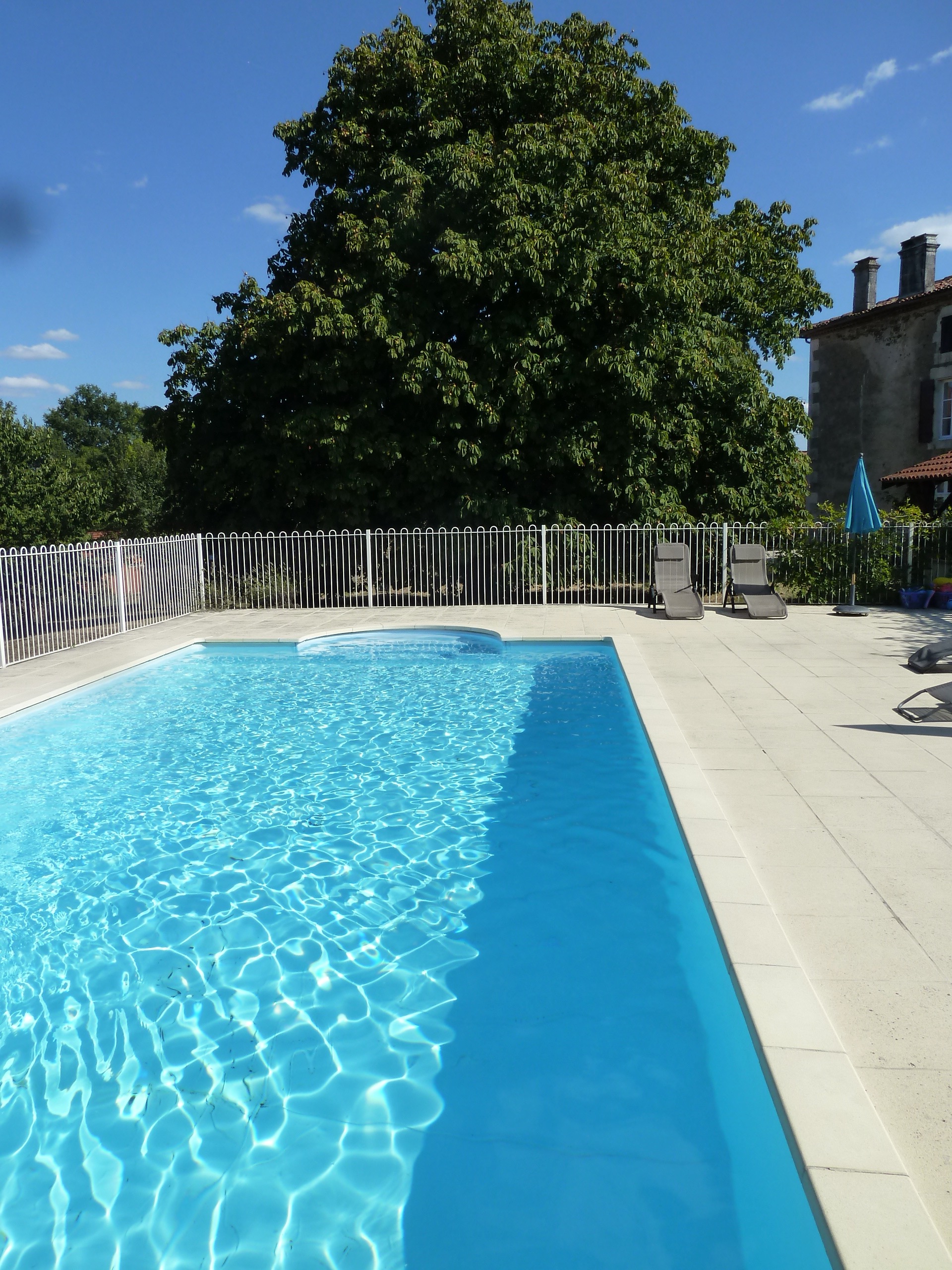 In the main house are 3 individuals styled guest rooms, each interior exudes warmth and romance.
Next to the main house is our Gîte "Theo d'Or". This fully equipped self catering accommodation allows you your independence while being able to enjoy the facilities of the Chambre de Hote.
Chambre de Hote
Bedroom 1 (Double)
Beautiful room with the best view from the house! Comfortable double bed and an antique large single bed. The separate private bathroom with toilet is located in the hallway.
Bedroom 2 (Triple)
Charming room with antique double bed. In the room there is  sink, bath and  an en-suite toilet. There is room for an extra guest if necessary
Bedroom 3 (Quarduple)
Large room with antique double bed and 2 single beds, suitable for a family. Large en-suiten bathroom with walk-in shower.
Theo d'Or
A Gîte where nostalgia and comfort meet, tastefully furnished with original features. Upstairs is the bedroom with double bed and 2 single beds, the toilet, and the bathroom. Downstairs there is an open plan kitchen with microwave, cooker, fridge and oven and a living room with TV/DVD player.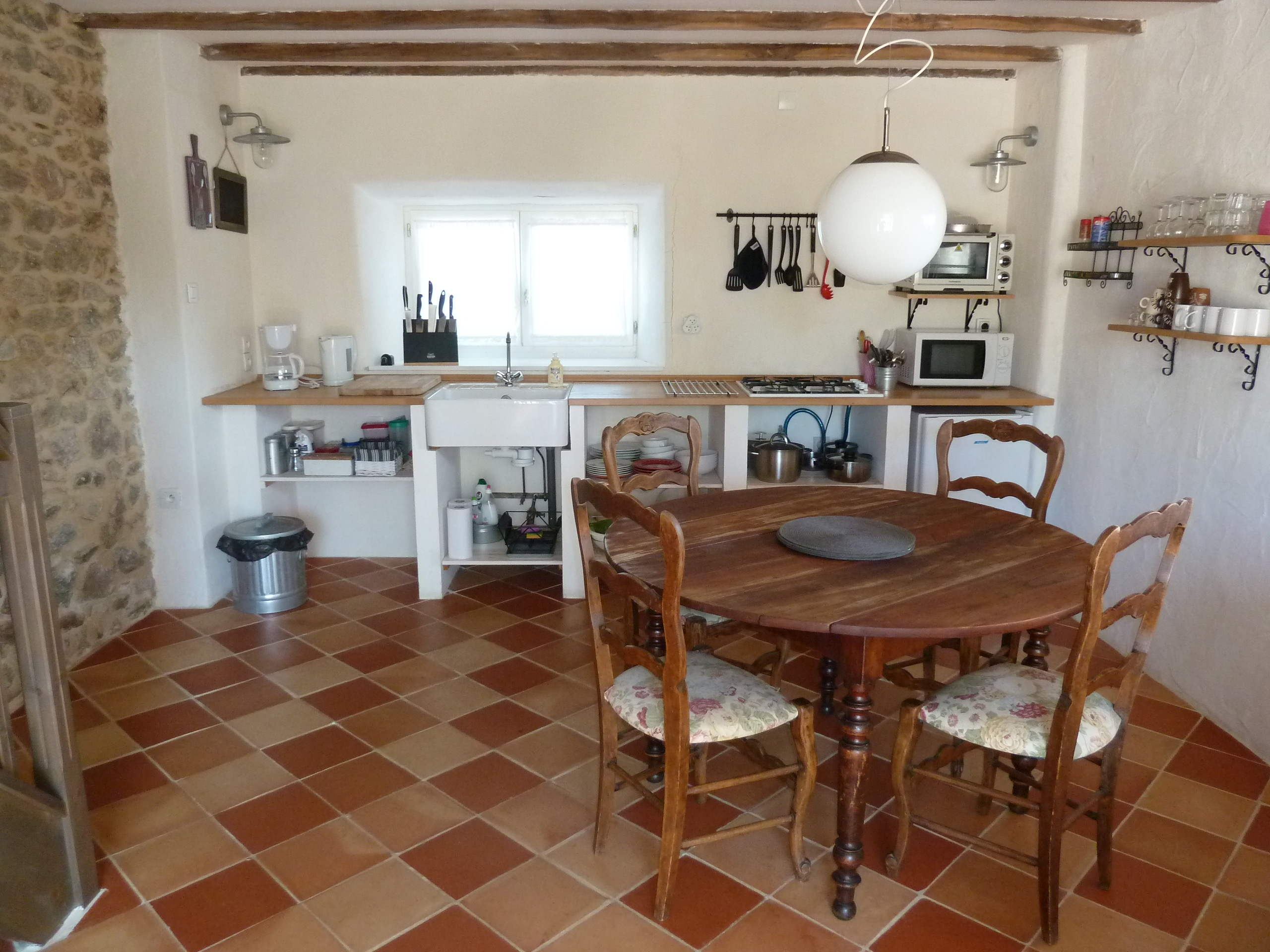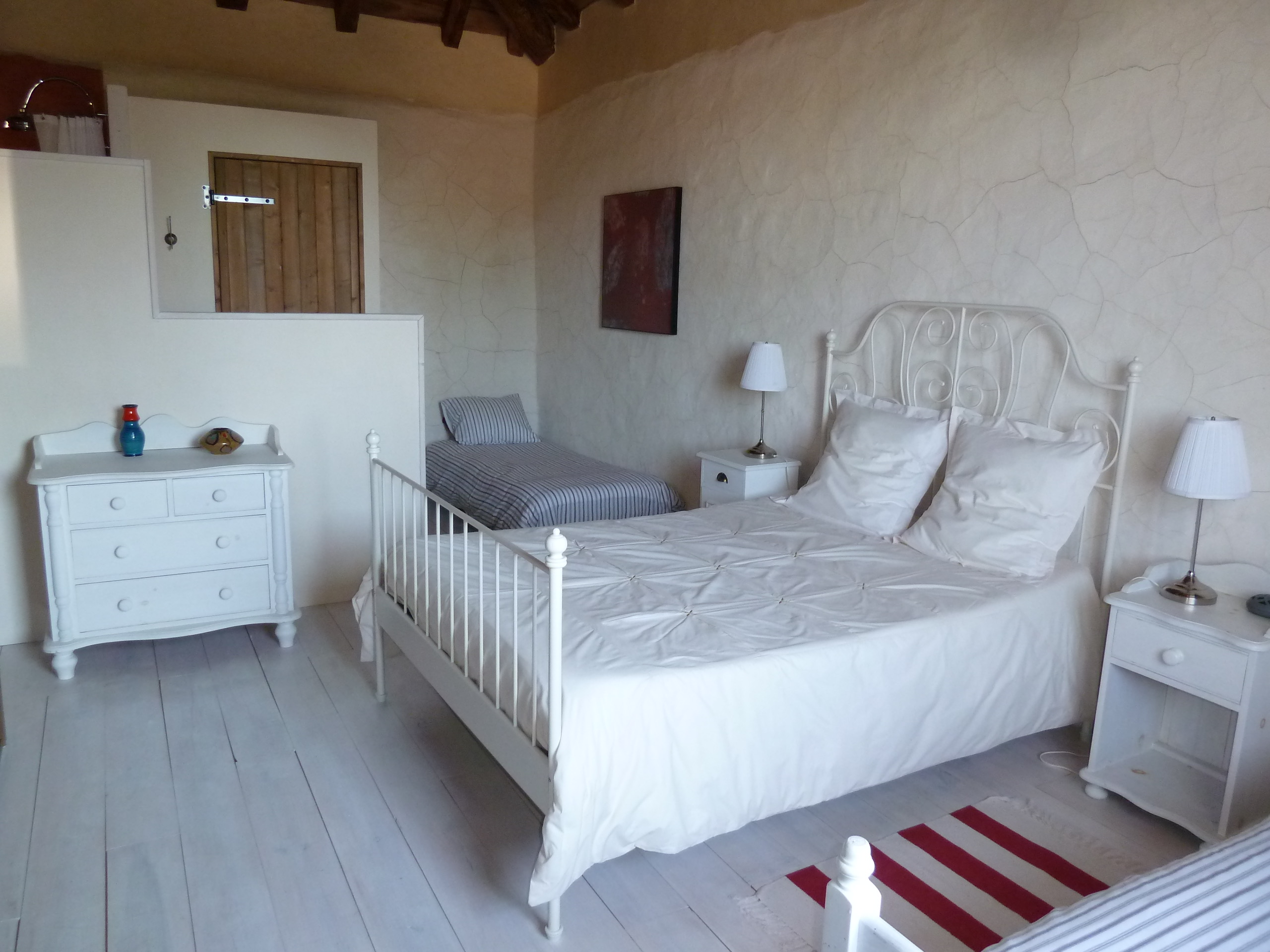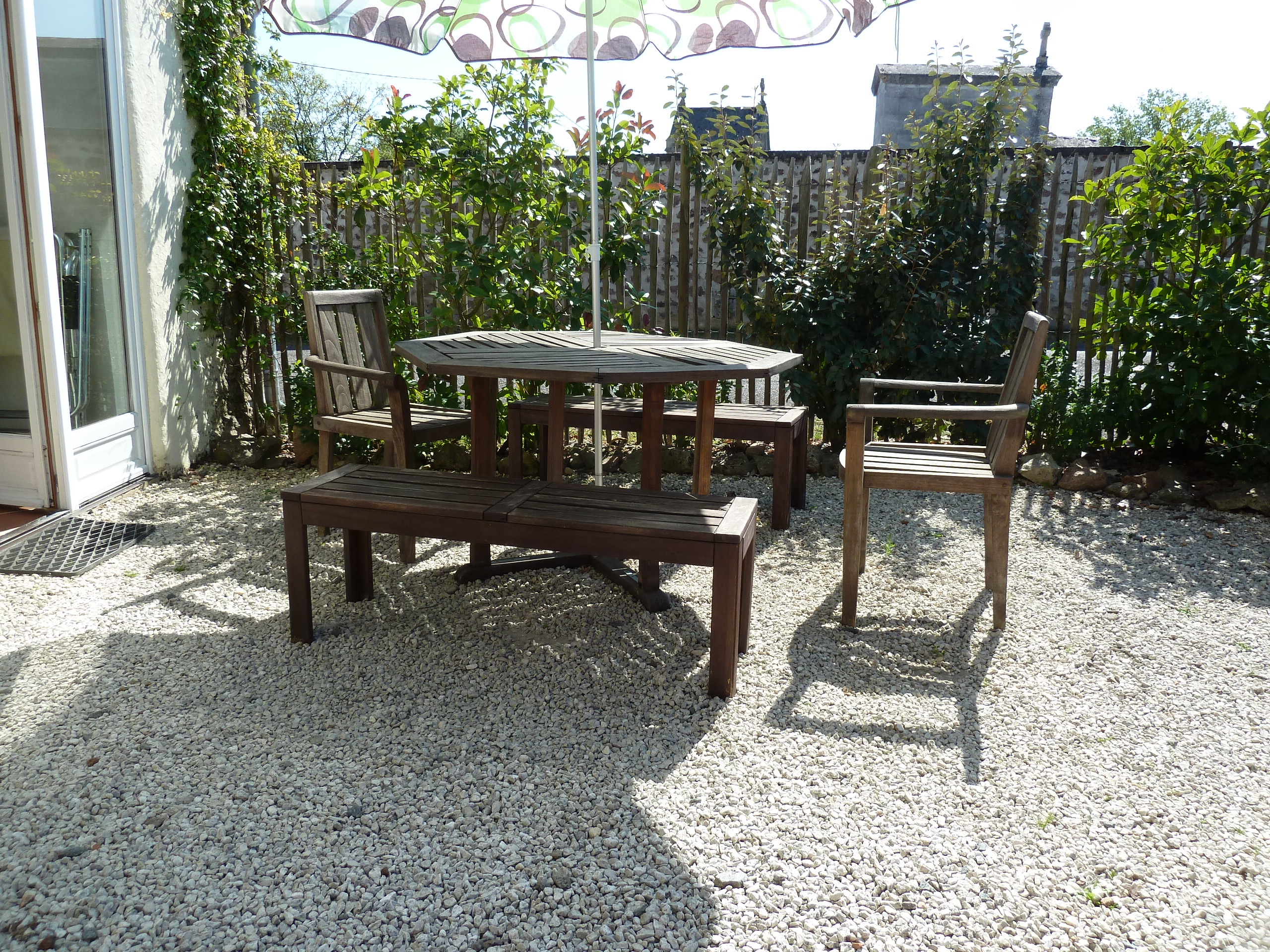 Would you like to join us for an evening meal? That is possible! 
At around 19.00hrs we offer  a wholesome meal using as much local produce as possible is served. 
Please give us 1 days notice. If you would like to use the table d'hôtes on the day of arrival, please let us know when booking.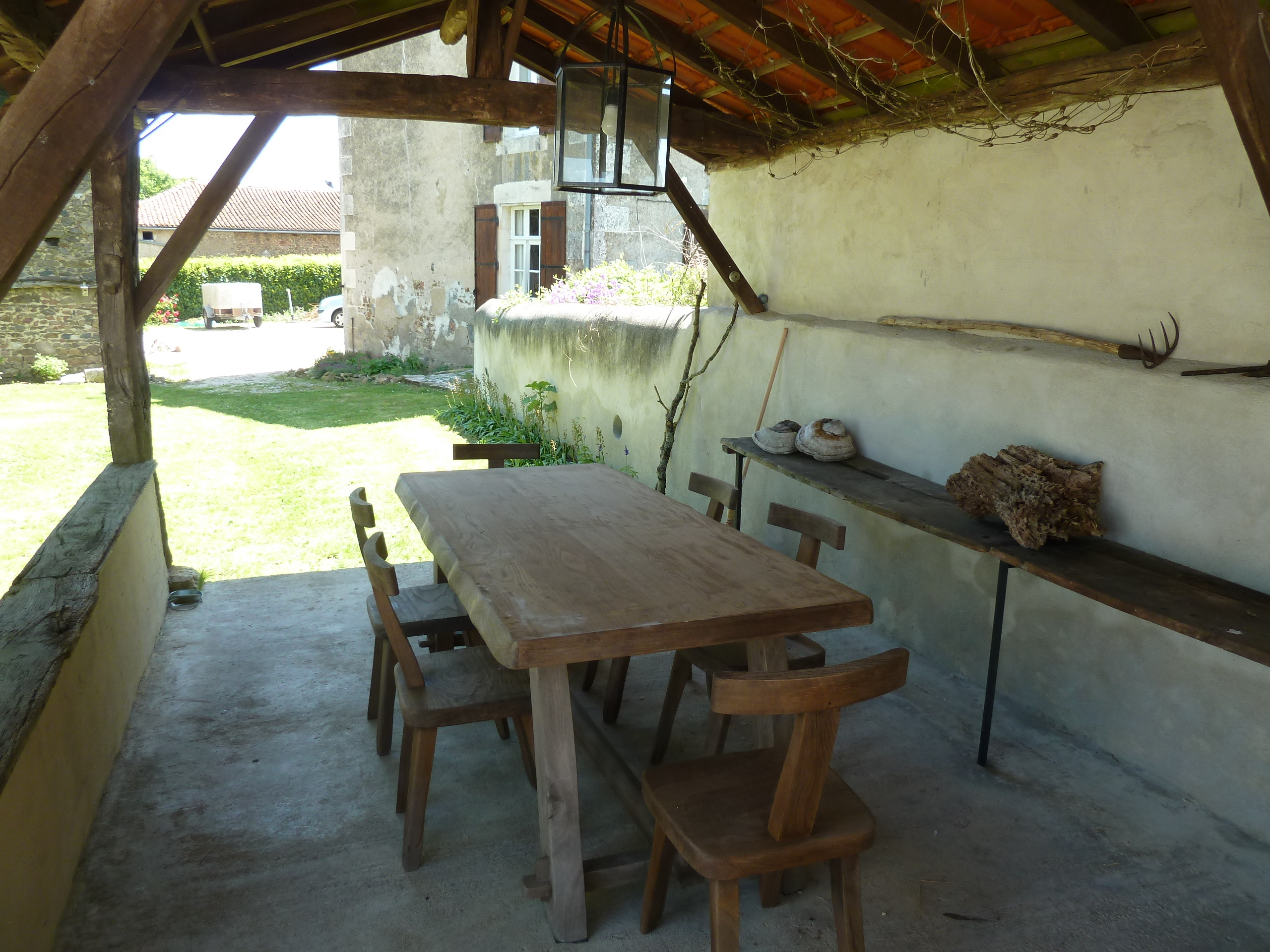 Rates 2020/2021 chambres d'hôtes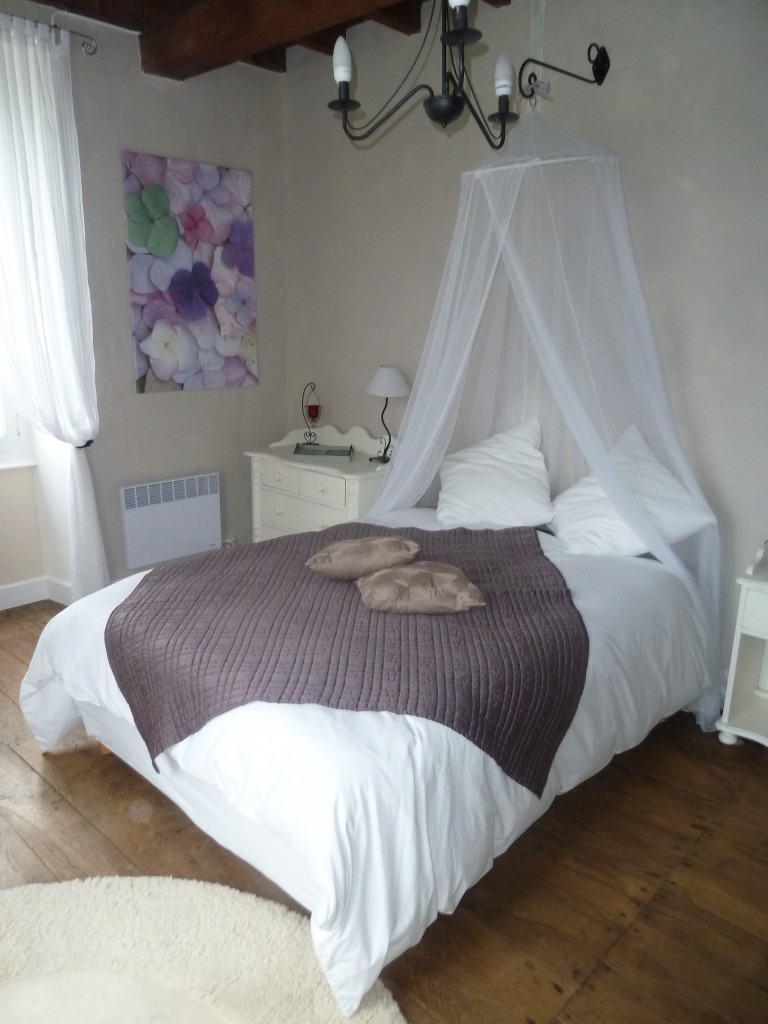 season 
€

500 p.wk
off-season  
€

65 a night or 

€

400 p.wk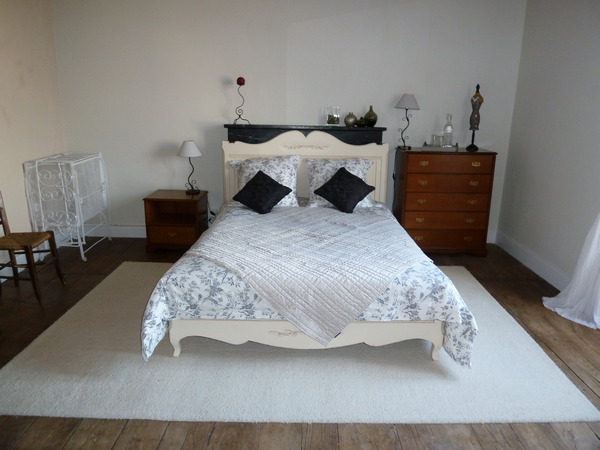 season 
€

550 p.wk
off-season 
€70

 a night or 

€45

0 p.wk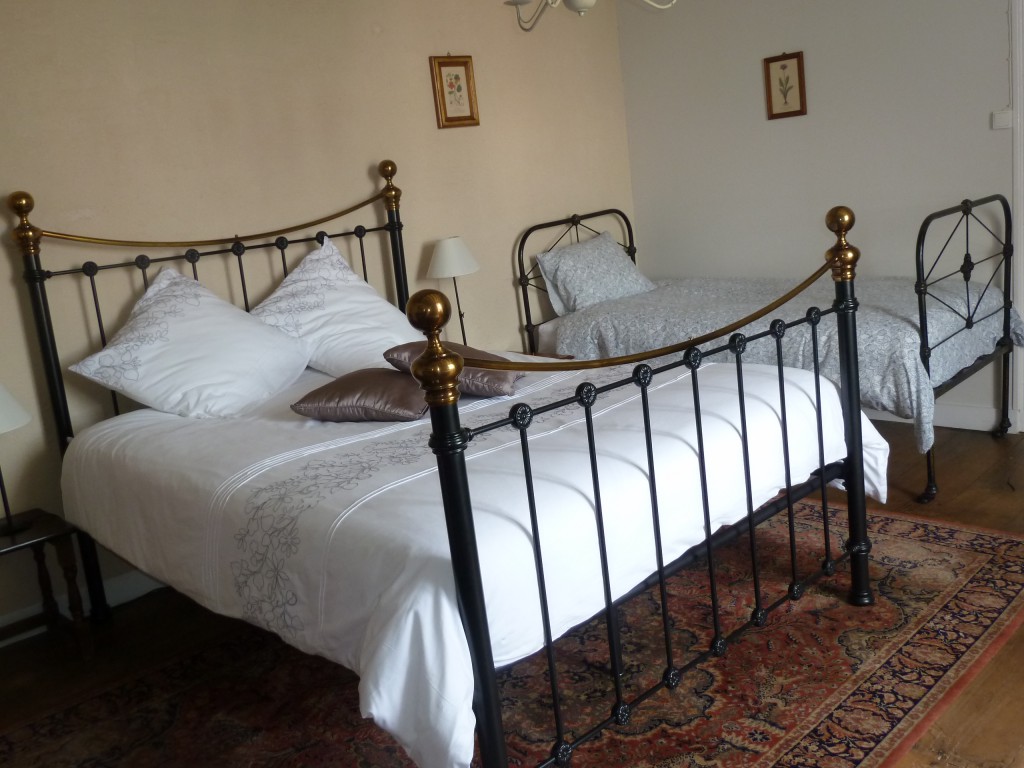 season
€65

0 p.wk
off-season  
€7

5 a night or 

€5

00 p.wk
High season from 15 June to 1 September. 
Prices are per room, for 2 people, including breakfast.
Extra person €25/night, including breakfast.
Children up to 3 Years €12/night, including breakfast.
We charge the local tourist tax
Rates 2020/2021 La petite maison de Théo d'Or ( GîTE)
2 people per week €750
Extra person €90/week
Final cleaning €40. Damage waiver Deposit €250.
2 people per week €450
Extra person €70/week
Final cleaning €40. Damage waiver Deposit €250.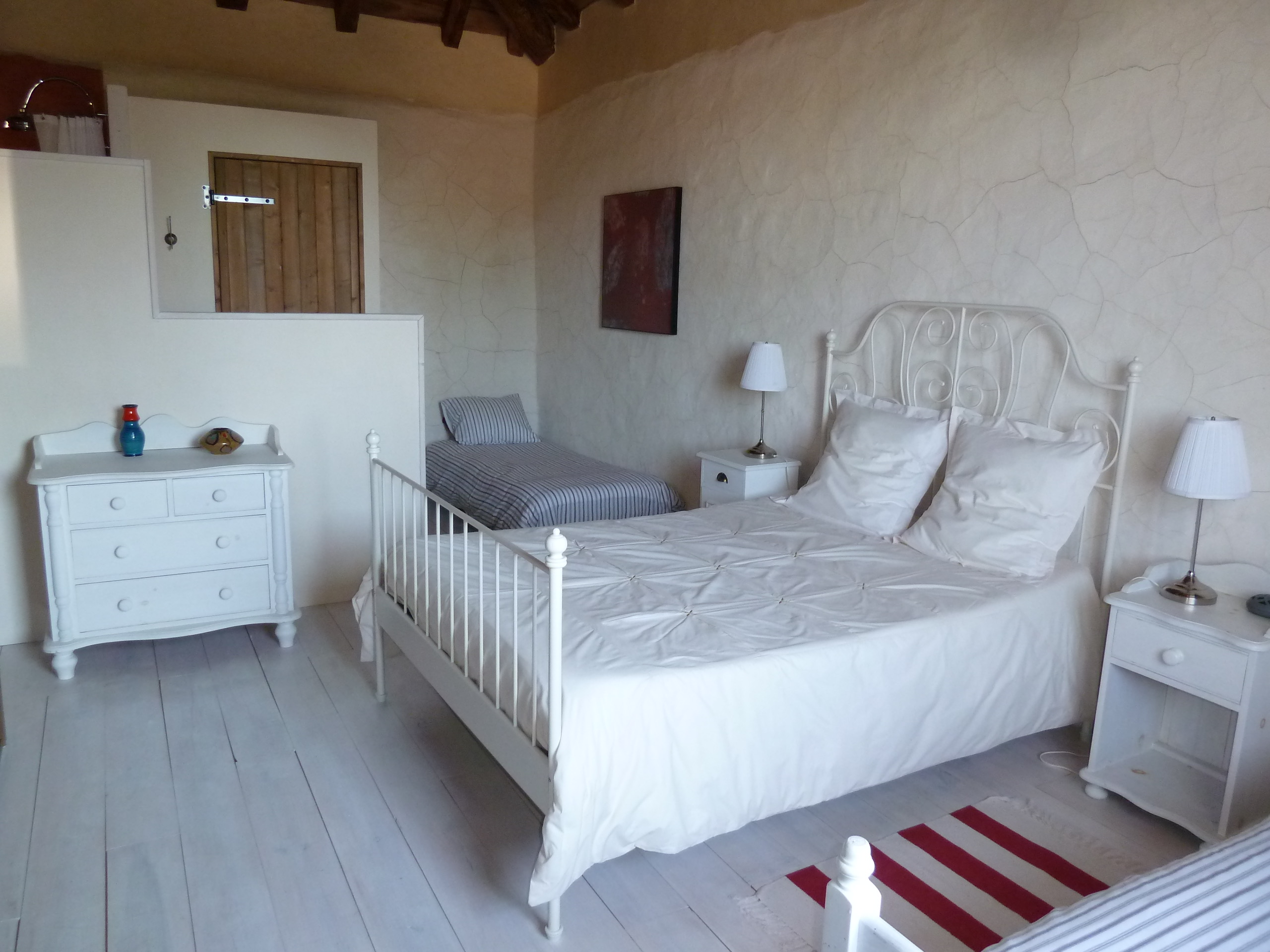 Table d'hôtes
€30 per adult for a wholesome meal
Including a half bottle of wine per person and table water
Coffee and tea after
children < 3 for free
children < 12  € 12
Breakfast
breakfast already included for Chambre D'Hotes
for the gîte €10,- p.p.
Conditions
Arrival between 16:00 and 19:00 (please call us if this does not work). Departure until 11:00. the whole property is smoke-free inside. The reservation is valid after receiving an advance of 50% of the total room/rental price. We do not accept credit cards. We recommend taking out travel and cancellation insurance. In addition to reservations via our website, 50% cancellation fees are charged in case of cancellation between 90 and 31 days before arrival. If cancelled less than 31days before arrival, the full amount of the stay is due. In the event of premature termination of the stay, the total amount will be charged. Cancellation must always be done in writing or via e-mail.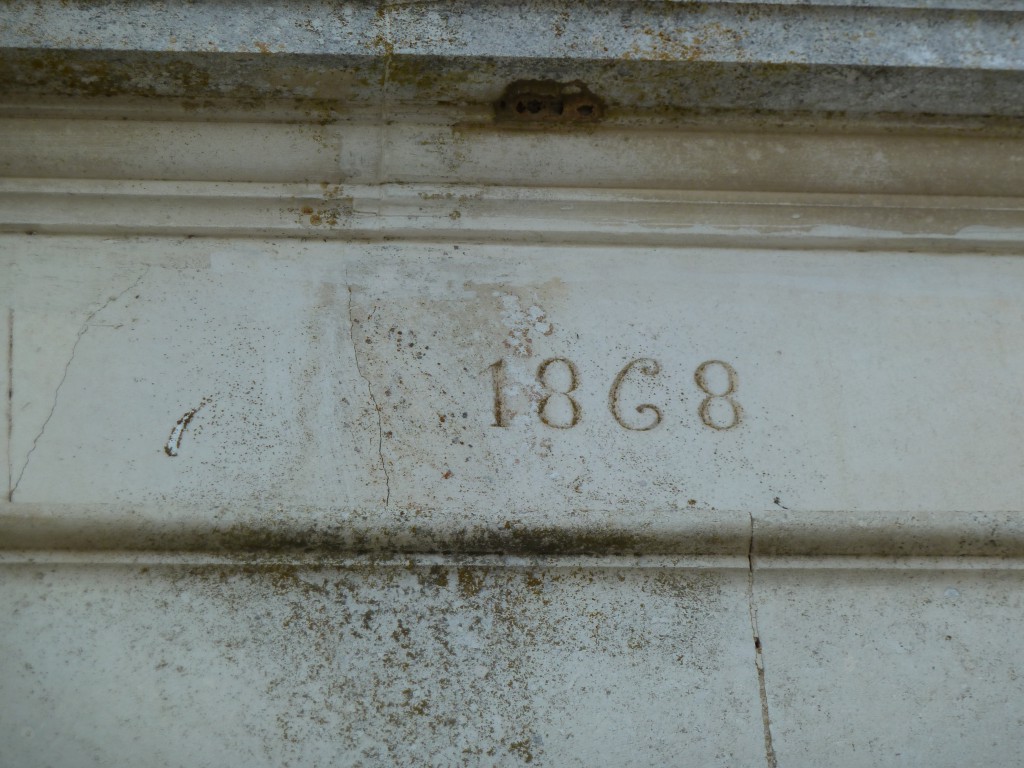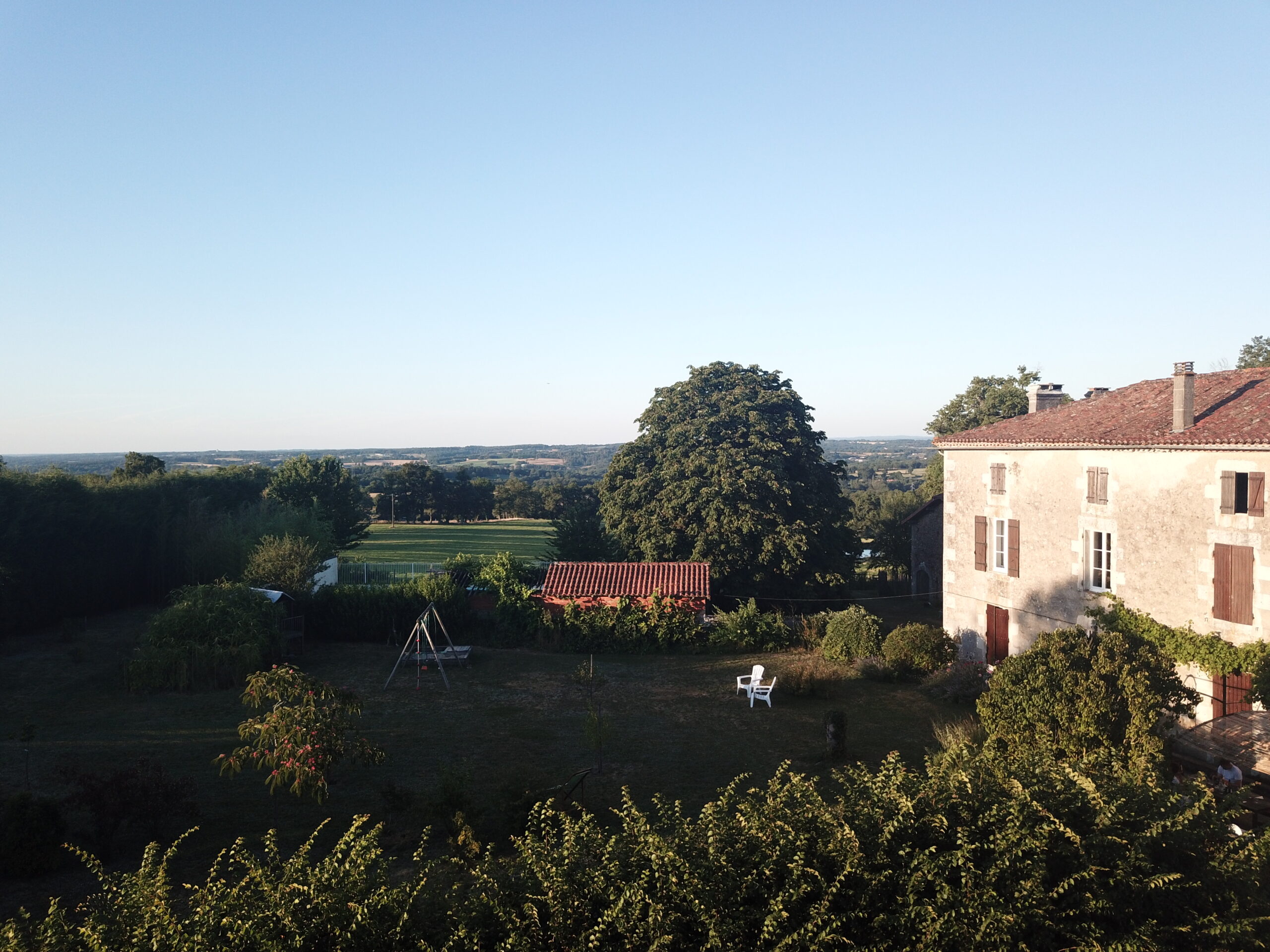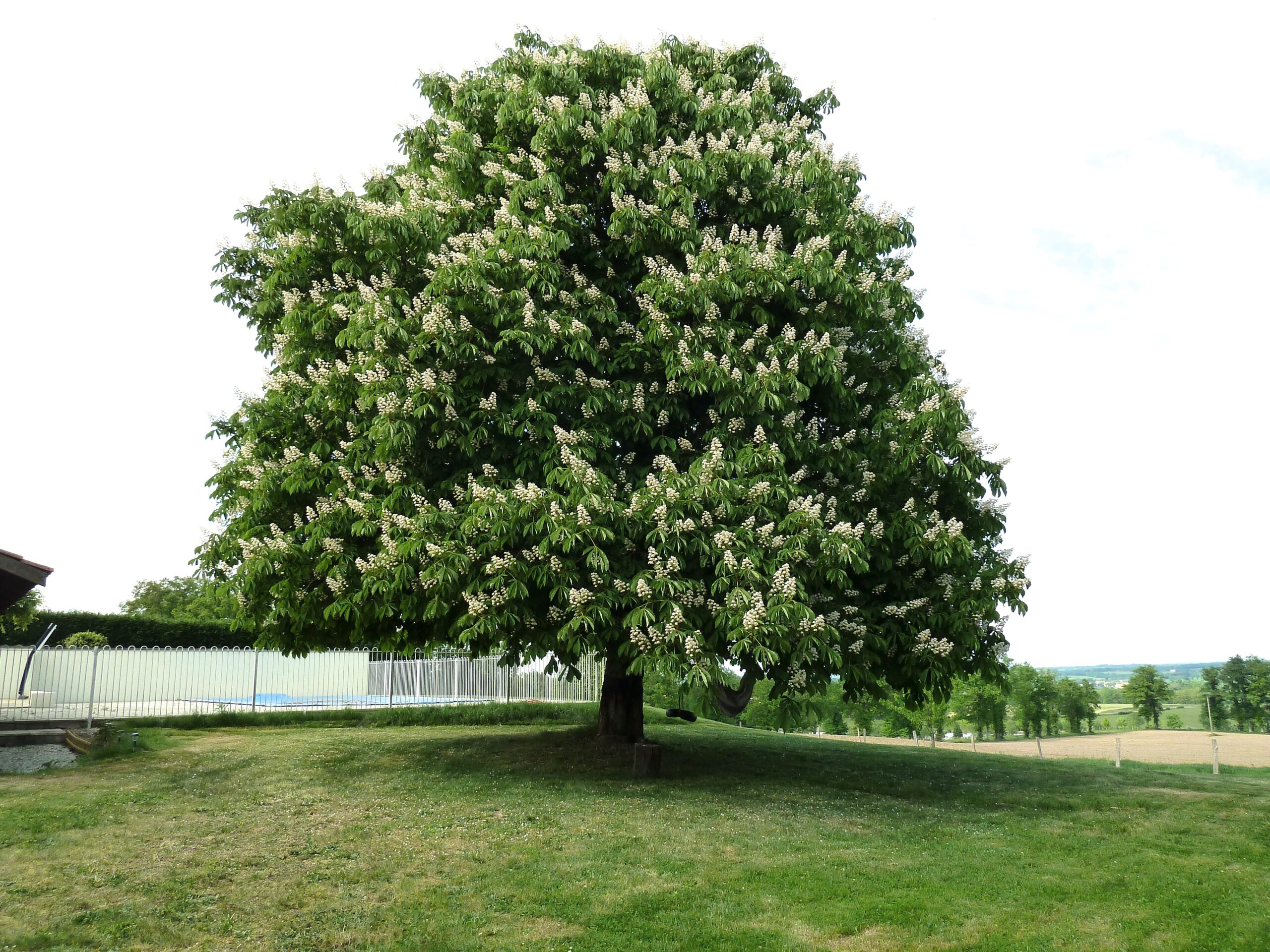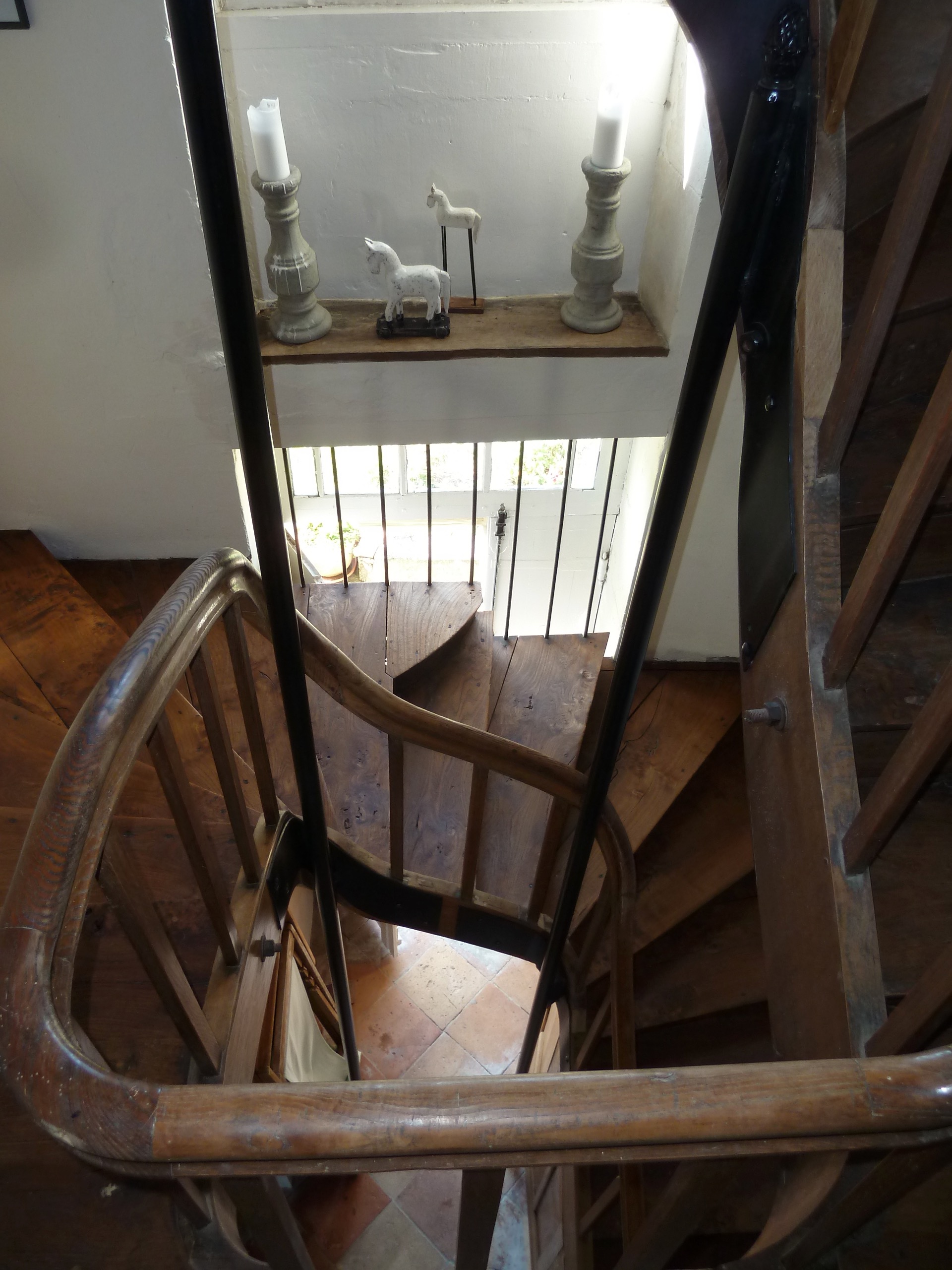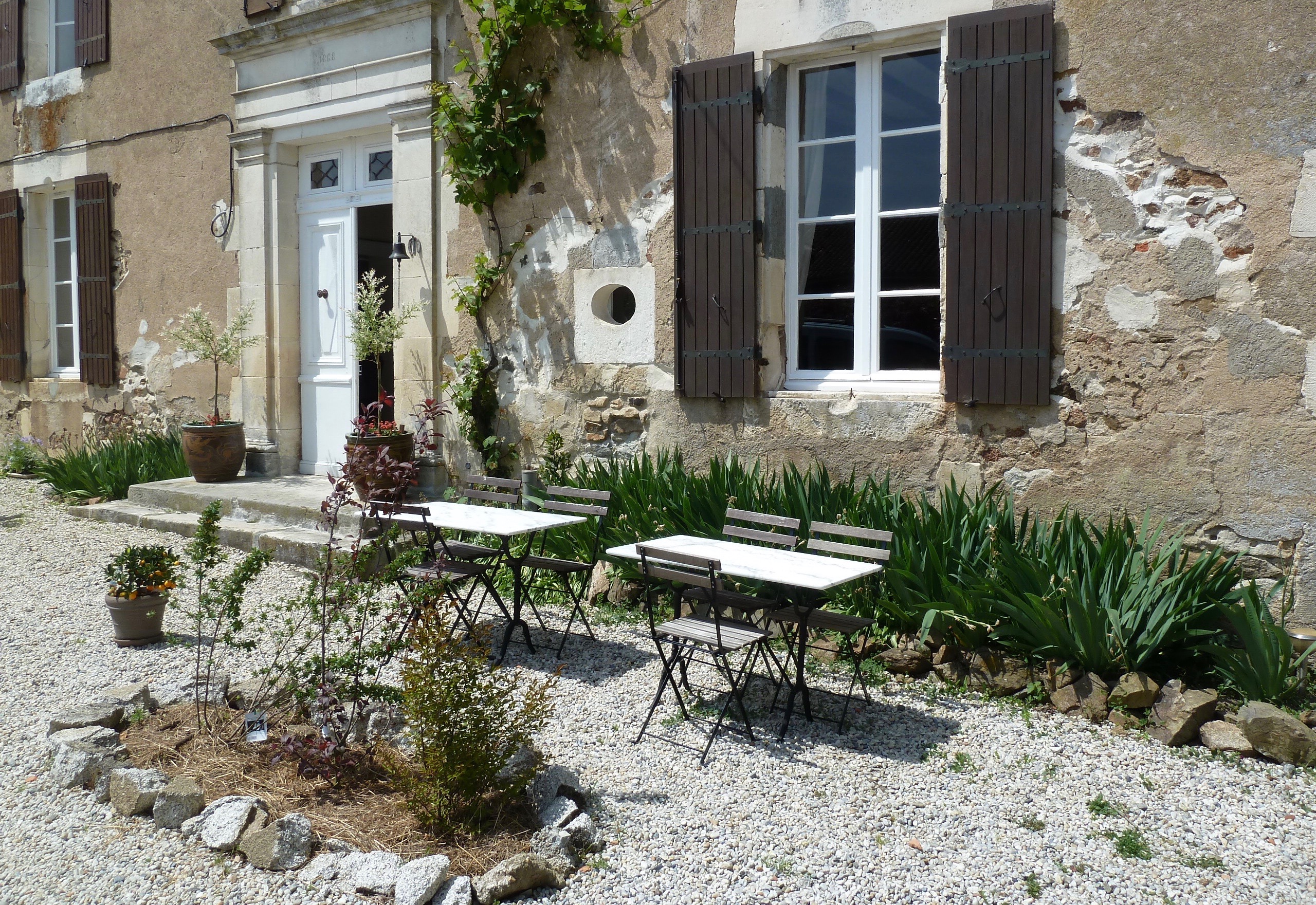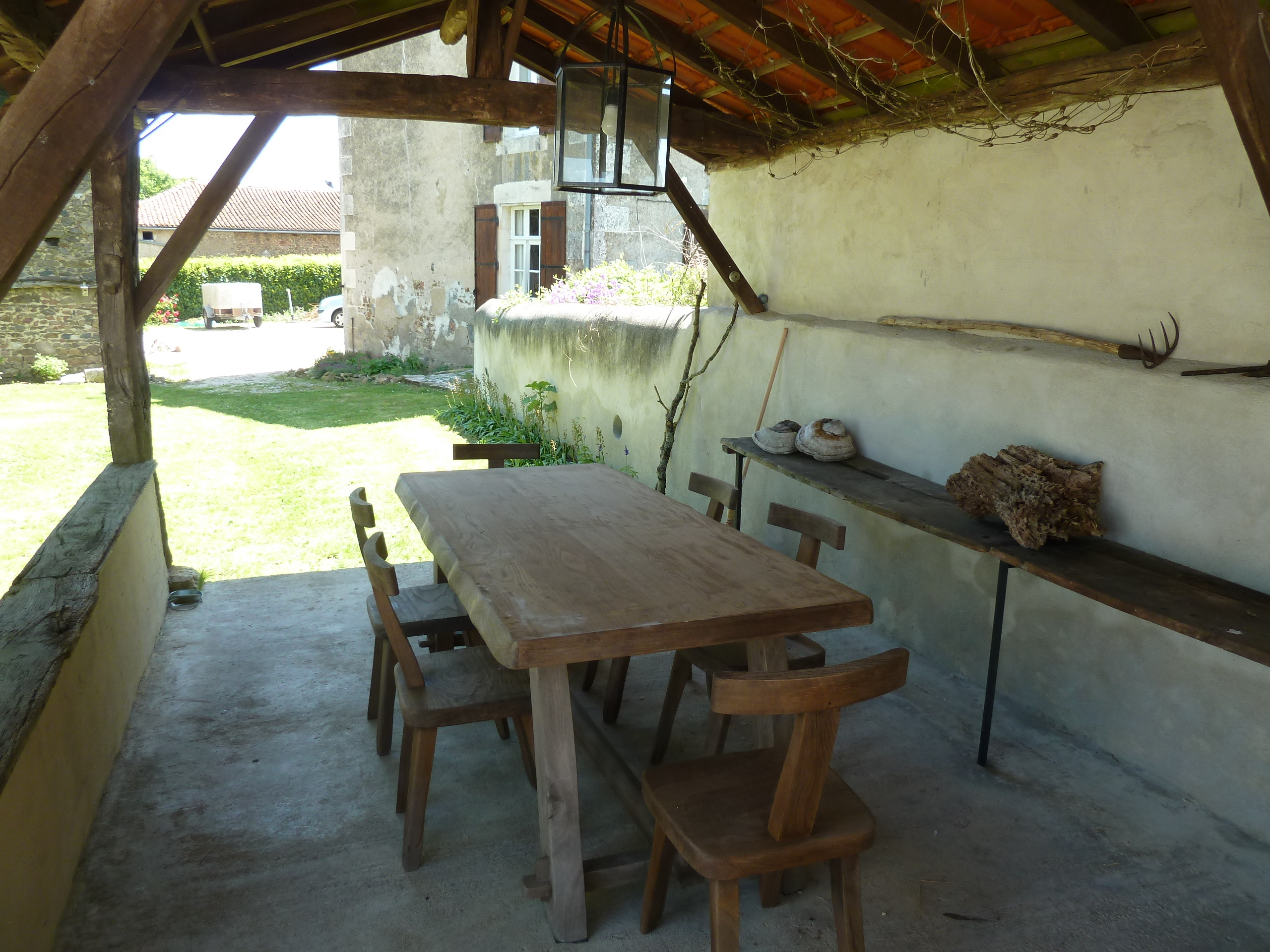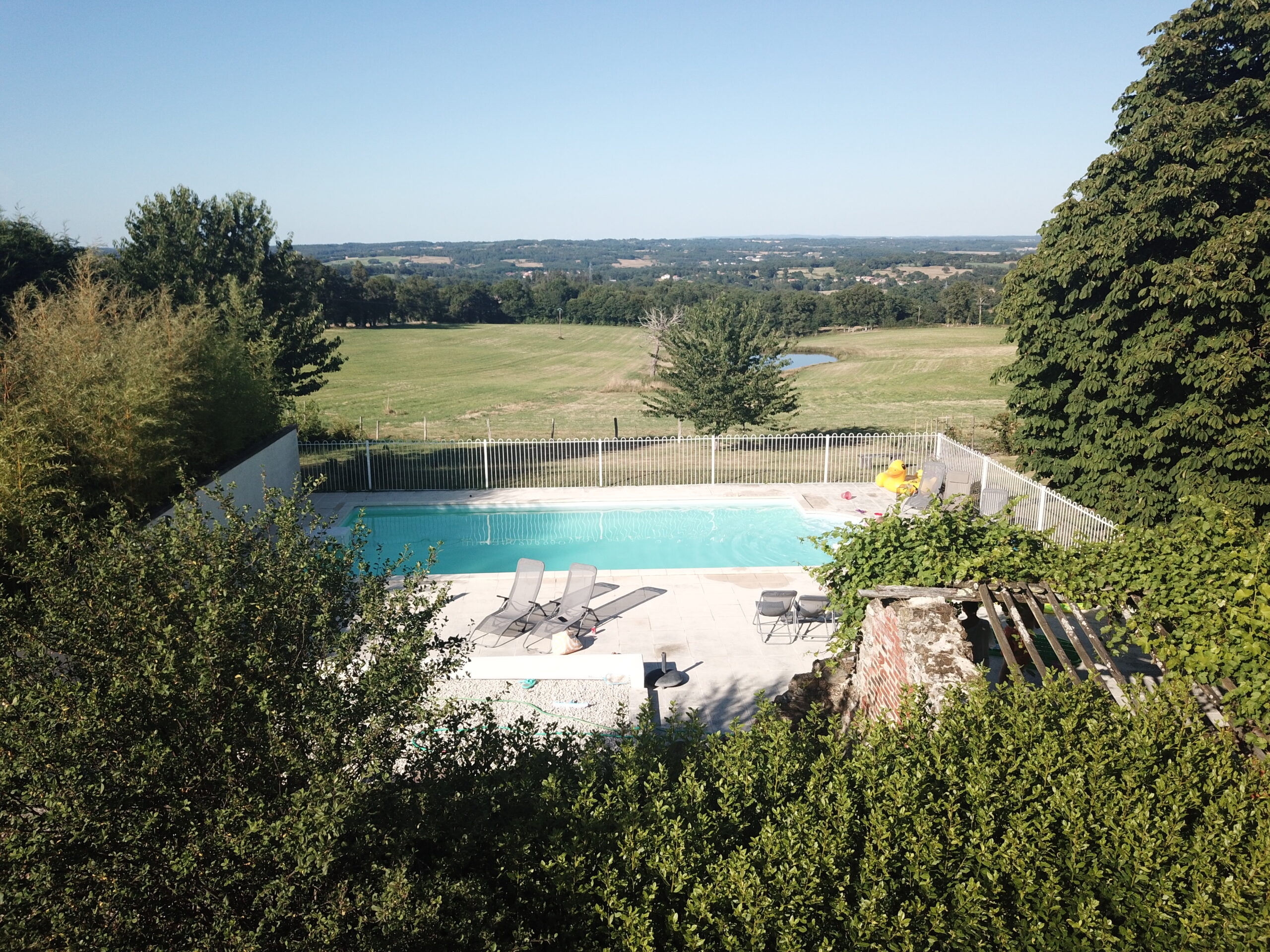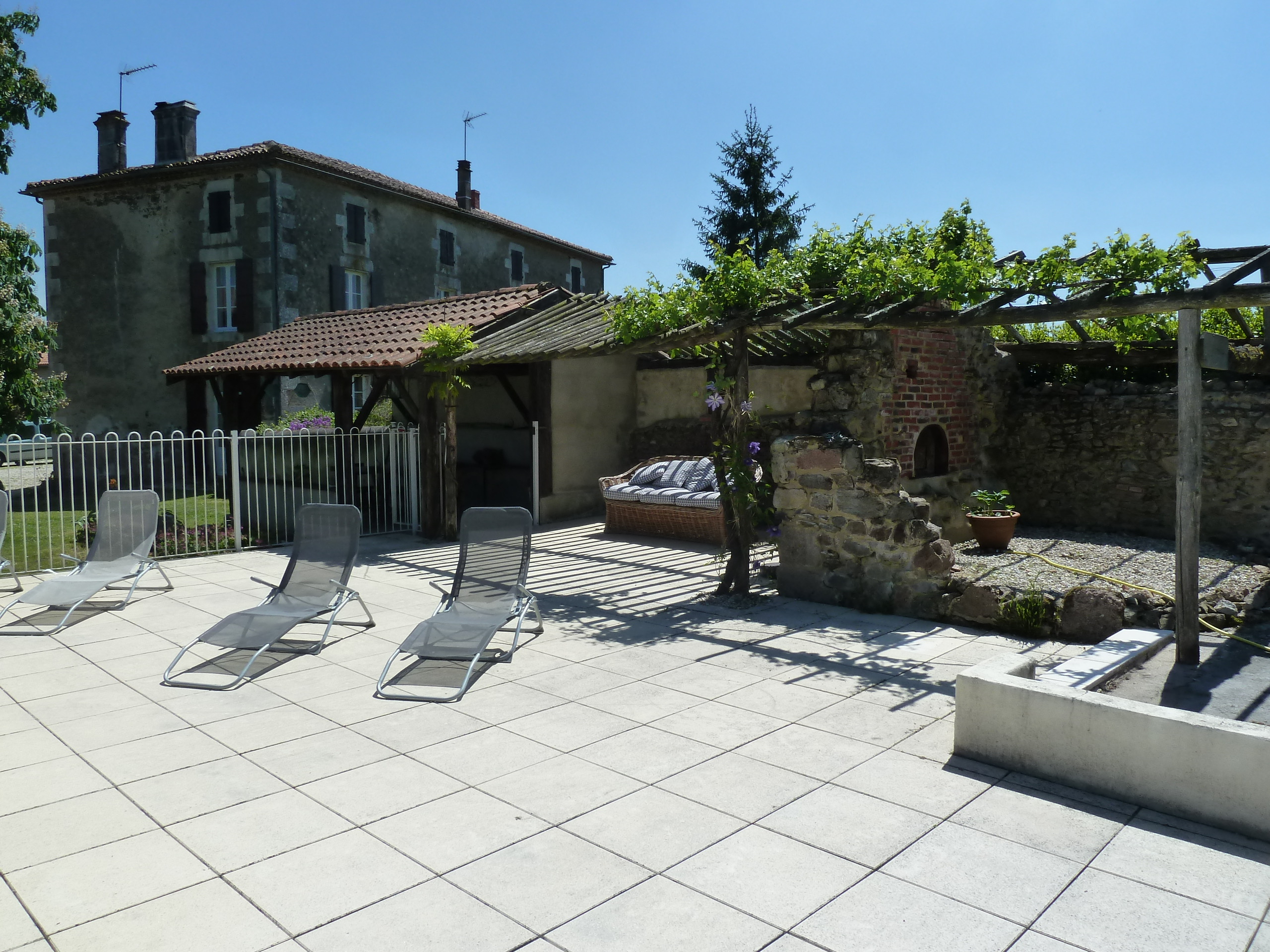 In the grounds of à l'ombre du Marronnier is the fenced swimming pool with outdoor shower and loungers.
Our garden has play equipment for the children and several seating areas.
Wi-Fi is available.
parking is availeble and free
Local
In the immediate vicinity there are swimming lakes with water activities.
La Péruse is surrounded by small, picturesque villages with beautiful old churches and chateaux. 
Every day there is a market or flea market to visit.
The cities of Angoulême (famous for Cartoons) and Limoges (porcelain) are a good half hour drive away.
In addition, there are activities such as hiking, golfing, canoeing, fishing and cycling.
In Poitou-Charentes it is mainly enjoyable the many different landscapes and the often unspoilt nature that is characterized by many lakes and rivers with natural clear water. With 2300 hours of sunshine per year, it is also a wonderful place to stay in the early and late season. Every season here has its charm and the relatively mild temperatures in winter make even a winter holiday here very pleasant.
Your Title Goes Here
Your content goes here. Edit or remove this text inline or in the module Content settings. You can also style every aspect of this content in the module Design settings and even apply custom CSS to this text in the module Advanced settings.
Watersports
La Péruse is located between fields of maize and sunflowers, about 10 minutes from the beautiful lakes of the Haute Charente, Lac de Lavaud and Lac de Mas Chaban. These lakes, along with the many other lakes in the region, offer a range of activities such as swimming, sailing, diving, windsurfing, canoeing, fishing, hunting, horseback riding, hiking, cycling, or blissful inaction and enjoying the sun on one of the two sandy beaches of Le Lac de Lavaud. In the rural setting you can see vast meadows, where the beautiful Limousin cattle are grazing, interspersed with beautiful valleys and forests. Due to this diversity in the natural environment of the lakes, there are more than 170 different species of birds to spot. Between Angoulême and the Atlantic Ocean, the Charente River flows through the former provinces of L'Angoumois and La Saintonge, the river was for a long time an indispensable connecting route that was crowded by longer-thelled flat-bottomed vessels, 'les gabarres'. They were laden with cognac brandy, paper from Angoulême, natural stone from Saint-Savinien, cannons from Ruelle or with salt and spices on their retreat from the Atlantic ports. Nowadays the river is less crowded and one can sail for much of the year with easy-to-steer river boats up and down the river through the small villages of Fléac, Trois-Palis, Nersac, Saint-Estephe, Saint-Simon,… those bathed in particular light of the region. The cities of Jarnac, Cognac and Saintes are well worth a stop due to their rich history. No certificate is required to drive the boats, in the home port the landlord will give you the necessary advice for a nice trip along the river. Boat trips are also offered from Angoulême, St. Simon, Jarnac, Cognac, Saintes, Saint Savinien (intermediate port) or Port d'Envaux. The flat bottoms, les gabarres, are now part of the tourist heritage and take tourists for a quiet trip on the Charente. 'La Renaissance', a reproduction of a 19th-century flat floor, sails every summer past Saint-Simon with its Romanesque church, the village of Saintonge and Saint-Même-les-Carrières, the old port where the transport of stones was done. Canoe and kayak, canobus, boats, inland vessels there are many ways to discover the Charente
Cycling and walking
For lovers of ATB (all terrain bike) the Poitou-Charentes is an excellent environment with several well-known tracks such as the Confolentais near Confolens and the Site of the Lacs de Haute Charente.
Cognac
A spirited city that has become world famous thanks to its wine-fired spirits. This 'eau de vie', originating in the 17th century, comes from the vineyards and is distilled and stored in oak barrels along the banks of the Charente.
As you stroll through the streets, you can smell the sultry scent of this goddrink. Along the old facades of the great Cognac houses, you will come across famous names like Remy Martin, Otard, Hennesy, Courvoisier, Martell, and many more. These cognac houses also offer guided tours to get acquainted with the history, manufacture, and maturation of the cognac. The delicious aperitif, 'Pineau des Charentes', also has its origins here.
The 'Musée des arts du Cognac' gives a general overview of the crafts that have arisen around this mastery, such as glassblowers, barrel makers, etc. This museum collaborates with the 'Musée d'art et d'histoire' where the link with the Netherlands and Flanders is further highlighted by a remarkable collection of masterpieces from the Low Countries.
Of course, Cognac has a lot more to offer than this delicious drink. Traces of the rich history can still be found in the city, such as the castle of Les Valois, where King Francis I was born. Meanwhile, the otard cognac house has been located here for over 200 years. The most interesting part of the city is called Ancien Quartier, with houses from the 15th, 16th, and 17th centuries.
If you want to enjoy beautiful greenery, be sure to go to the 8-ha park of 'Hotel de ville'. In 'La Base Plein Air' the park of André Mermet, you can rent electric boats to sail along the quay side of the city. In this park you will find nice harnesses for children, and you can pick-nick.
From May to September  city views in a small train from the 'Office de Tourisme'  'Les étapes du Cognac'  will map out 5 wine and tourist routes so you can easily get to know all facets of this beautiful city. Furthermore, the city offers a range of events, music, dance, and street art festivals throughout the year, in short something for everyone. If you want to experience Cognac by night, you can take part in 'Les Noctambulations', organised evening walks during the summer months.
Cognac is 90km from La Péruse.
Confolens
Confolens, located in the middle of the triangle formed by the 3 cities of Angoulême, Limoges and Poitiers and at the confluence of the rivers Vienne and Goire. In this beautiful city you can enjoy the medieval architecture. On the 'Pont Vieux',a 12th century structure that connects the two city halves, it is pleasant walking. This leads to the busy district 'La Fontorse', where there is a beautiful fountain.
'Eglise Saint-Maxime' has an octagonal bell tower in trobadour style. The Romanesque church  'Eglise St-Barthélemy'  stands on the other bank of the Vienne and has a square bell tower The Rue du Soleil  was until the 19th century the main street of Confolens, where you can still admire the house of the Duke of Epernon with beautiful half-timbered walls.
Every August, the city of Confolens dos itself out with a thousand lights and you can get carried away to the rhythm of dances from all over the world, during the 'Festival International de folklore'. The 7-day festival attracts more than 200 000 visitors annually, who travel in the world of dance and music from 5 continents.
Confolens is 18km from La Péruse
Beautiful villages
Aubeterre-sur-Dronne
One of the most beautiful villages in France, with its walls in chalk stone and bathed in greenery, exudes a southern allure. The houses, some of which still have wooden balconies, situated in amphitheatre form above the Dronne, and the craft shops, give this village a picturesque character. The monolithic Saint-Jean Church is a remarkable monument that you should visit. The underground church was carved out of a rock by the Benedictines in the 12th century and with its 20m high vault is the largest cave church of Europa.In the summer one can bathe and relax on the sandy beach on the Dronne. On the Dronne, water sports enthusiasts can enjoy themselves in a kayak or canoe.
Aubeterre-sur-Dronne ligt op 90km van La Péruse.
Oradour-on-glane
Formerly a peaceful village located on the Glane, now a martyr's village that was preserved in the old state in memory of the tragedy that took place during the war in 1944. About 700 men, women and children were murdered, 328 buildings were destroyed there, one of many senseless and heinous crimes committed at the time of the German occupation. When walking around this ruin city, it is still hard to imagine what kind of inhuman dramas have been going on here.
Oradour-sur-Glane is 36km from La Péruse.
Angoulême
An art city, history city, flower town, strategically located on a descending rocky outcrop of the Charente overlooking the 80-meter valley of the river. With its beautiful cathedral and covered market, the cosy pedestrian quarters in the shelter of the ramparts, Angoulême is the ideal city for a day of strolling and enjoying.
In the cobbled alleys you will find many cosy restaurants and cafes where you can have a nice dinner or a delicious coffee, shop windows with refined chocolate, masterful noga and macarons, delicious cakes, cosy tea and coffee shops, wine merchants, this is a city for bon vivants who like to experience culture and history with refined gastronomy.
Along the Charente at the foot of the old town you will find several old paper mills that made the famous paper of Angoulême. The highlight of the cultural year in Angoulême is undoubtedly the International Comic Festival, which takes place every year around the end of January.
The comic book museum, 'Le Centre Nationale de la Bande Dessinée et de l'Image'  is well worth a visit. In the city itself you can follow a fascinating trail through murals of various cartoonists who let the city read like a comic strip. Lovers of art and history can indulge in 'Musée d'Angoulême', a completely renovated city museum with a beautiful collection of European paintings, ancient weapons, ceramics, archaeological objects, etc. Of course, there are still plenty of museums worthwhile.
From June to September, tours with different themes are organized by Angoulême. History has drawn Angoulême and its surroundings. Due to the interest of the French and English nobles for this region, many beautiful castles have been built around the city of Angoulême, such as the castle of Verteuil-sur-Charente, Balzac, Etagnac, La Rochefoucauld.
The many medieval villages around the city are also worth a visit with their mills, abbeys, churches and castles such as  Aubeterre-sur-Dronne, Nanteuil-en-Vallée, Marcillac-Lanville, Verteuil-sur-Charente, Tusson, Saint-Amand-de-Boixe.
Many villages are located on the pilgrimage route to Santiago de Compostella and are therefore also protected by Unesco.
Main events in Angoulême:
For reservations or additional information, please contact us
A Lombre Du Marronnier
9, Rue de Bellevue
16270 La Péruse
FRANCE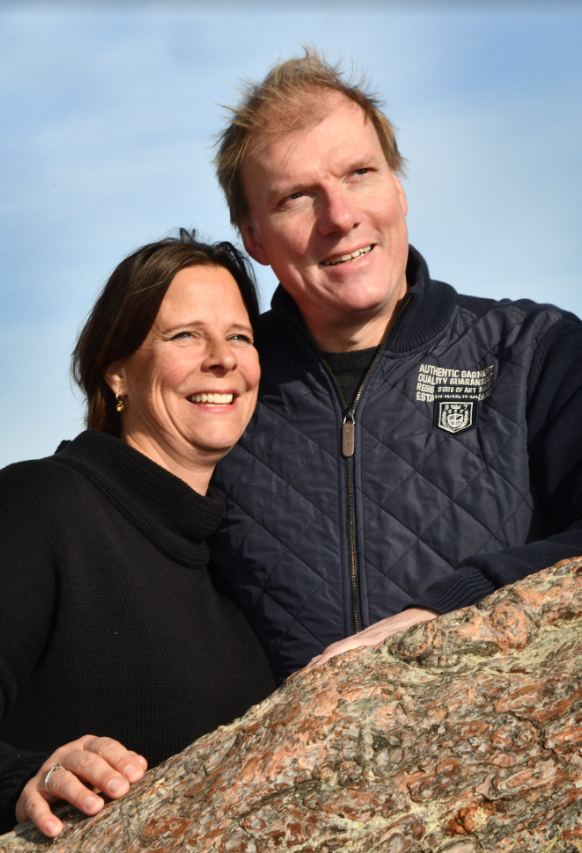 Corona update
We will do anything we have to to make your stay safe
'A l'ombre du Marronnier' is located in the hamlet of "le temple" in the village of La Péruse (poitou-Charentes department). The house is located at the intersection of "rue du Temple" with "rue Bellevue". La Péruse is about 650km from the French-Belgian border.
By car
From the North: Shortest road is over Paris A10 towards Orléans A20 towards Limoges/Toulouse In Limoges you take towards Angouleme N141 After about 45km you will meet in the village of La Péruse.
From the south: From Toulouse E09 towards A20 Limoges/Paris In Limoges take you towards Angouleme N141
by train
From Paris (Montparnasse station) TGV Atlantique towards Bordeaux Exit in Angouleme (2h15) From Lille-Europe regularly direct (TGV) connections to Angouleme
if possible to pick you up there we will